Manage episode 216494295 series 1421122
Discovered by Player FM and our community — copyright is owned by the publisher, not Player FM, and audio streamed directly from their servers.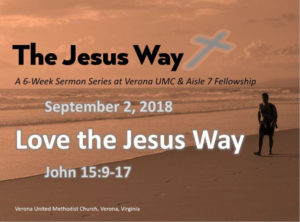 September 2, 2018 Love the Jesus Way

This Sunday's sermon "Love the Jesus Way" is the first in our new six-week sermon series:
I absolutely believe that only Jesus can show us how to love - really love. Love is perhaps the most misused, abused, and overused word in the English language. Too often, as a fallen human being, I love things and I love people only because they serve my unmet needs; make me feel good about myself; help me fill the empty spots in my life.
In other words, my love is almost always a narcissistic self-love.
Jesus, however, taught and demonstrated a love that was selfless. Can I really love as Jesus loved? Come this Sunday morning as we unwrap the keys to loving the Jesus way.
Grace and peace, Pastor Bob
John 15:9-17
The post Love the Jesus Way appeared first on Verona United Methodist Church.
203 episodes available. A new episode about every 7 days .