Manage episode 206573250 series 1421122
Discovered by Player FM and our community — copyright is owned by the publisher, not Player FM, and audio streamed directly from their servers.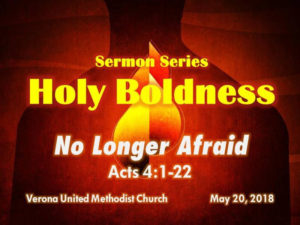 Our message this Sunday will look at the fourth chapter of Acts and the first account of persecution of the newly established Church in Jerusalem. Where Peter and John once feared the power of religious authorities, they now speak boldly and clearly through the Holy Spirit. Our God has given us this same Spirit of boldness so that we can proclaim the good news of Jesus without hesitation.
Grace and peace,
Pastor Bob Weeks
Acts 4:1-22
The post No Longer Afraid appeared first on Verona United Methodist Church.
203 episodes available. A new episode about every 7 days .