Manage episode 150389668 series 77893
By
Discovered by Player FM and our community — copyright is owned by the publisher, not Player FM, and audio streamed directly from their servers.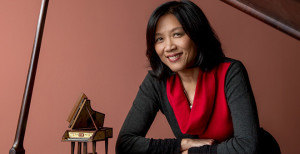 In this Wee Chat we talk to Dr. Gwendolyn Mok, a world renowned pianist and current Coordinator of Keyboard Studies at San Jose State University School of Music and Dance. She is a New York native who loves playing the piano and learning about their history as well. Her passion for performing has rewarded and allowed her to perform on various stages around the world. In this chat she talks about the mental side of being a professional pianist and performer. Gwen mentions how preparation is important to her along with her pre-performance routine which at times can include a pan! Listen to her also discuss the similarities and differences between athletes and musicians. Enjoy this Wee Chat with Gwendolyn Mok.
Check out www.weechats.com/brilliant-people/gwen-mok-pianist/
The post Wee Chat with Gwendolyn Mok – Pianist appeared first on Wee Chats With Brilliant People.
37 episodes available. A new episode about every 30 days .