Manage episode 127065497 series 77893
By
Discovered by Player FM and our community — copyright is owned by the publisher, not Player FM, and audio streamed directly from their servers.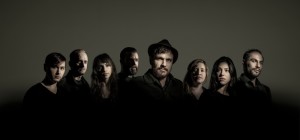 In this Wee Chat we talk to Sam Chase from The Sam Chase band fame. Sam is a San Francisco native who talks about how important the audience is for a performer and how they form a reciprocal relationship. He covers his views on how failure is not necessarily bad and is sometimes necessary in life. He also discusses how he prepares for his shows, which is a very interesting listen indeed! For fans of his music, we also asked him about his love of bones in his songs. So join us on this for this Wee Chat that took place in San Francisco's Golden Gate Park.
As mentioned on their website, "The Sam Chase has a voice like a Nun on the lam with a mouthful cigarettes and curse words in a lonely bar, drunkenly dancing next to a broken jukebox. His songs are scribbled, not written, on lipstick and sweat stained motel bedsheets because he likes the way the ink bleeds. His guitar runs on diesel and leaks like the morning after too much Whiskey. His is a show you'll probably want to tattoo on your body so everyone will know that you knew him before he was cool."
Sam and his band hail from San Francisco, California Sam and his band, whom he lovingly refers to as The Untraditional, have been on this musical journey for many years now. In 2012, came the release of their long awaited first studio album, THE SAM CHASE WILL LEAD US TO VICTORY. It took the group all across these United States and back to their home in the Bay Area. The album was a hit and fans came calling for new music. So the band dove head first into writing and preparing a new album. In late May of 2013 THE SAM CHASE WILL NEVER DIE was released. Once again the band struck gold and produced a great album which was well received. As of the early hours of 2016, Sam and the band have gone back into the studio and laid down 13 brand new tracks. The new album "Great White Noise" is out now CLICK HERE TE BUY
Check out www.weechats.com/brilliant-people/sam-chase-musician/ for more information about Sam and his band.
The post Wee Chat with Sam Chase – Musician appeared first on Wee Chats With Brilliant People.
37 episodes available. A new episode about every 30 days .