Manage episode 158515606 series 77893
By
Discovered by Player FM and our community — copyright is owned by the publisher, not Player FM, and audio streamed directly from their servers.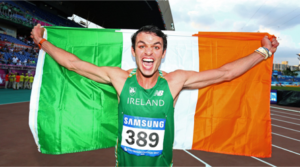 WELCOME TO WEE CHATS WITH BRILLIANT PEOPLE
In this Wee Chat we talk to Thomas Barr, the current Irish National record holder of the 400m hurdles and a 2016 Olympian in Rio. He talks about "coming into his own" in the last 4 years and experiencing competitive success as an elite runner.
He is a four time Irish National Champion in the 400m men's hurdles and in the fall of 2015 won a gold medal at the World University Games, and was awarded European Athlete of the Month. Also in that year, he was named Irish Athlete of the Year. Thomas was a semi-finalist in the 2014 European Senior Athletics Championship and in 2013 he placed 8th in the U-23 European Track and Field Championship. He graduated from the University of Limerick with a degree in Engineering, and continued there to earn his Master's degree in Sport Performance. Thomas competes in the 400m hurdles starting on Monday, August 15 at the 2016 Olympic games in Rio.
Thomas has experienced brilliant success by learning to combine his friendly, social nature with purposeful, performance focus to compete at the elite world stage. In studying his craft, Thomas has developed the mental awareness of what potential factors will impact his race and uses mental skills such as visualization to assist his performance.
Join us and listen how this and more have helped Thomas Barr's path to enjoying brilliant performances.
For Thomas Barr biography check out http://weechats.com/thomas-barr-2016-olympic-400m-hurdler
The post Wee Chat with Thomas Barr, 2016 Olympic 400m hurdler appeared first on Wee Chats With Brilliant People.
37 episodes available. A new episode about every 30 days .