Manage series 1234800
By
Discovered by Player FM and our community — copyright is owned by the publisher, not Player FM, and audio streamed directly from their servers.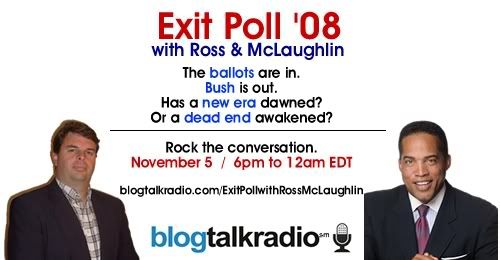 Barack Obama has done it – won the White House in what was arguably the most significant presidential race of the past century. But now that the mud has dried and he stands before the nation promising change, where do
we the people
stand? That's what
Kevin Ross
and
David McLaughlin
are bent on finding out. And who better for the job than America's best blog talkers? Last month, Kevin – an African-American Republican from Los Angeles – and David – a white Democrat from outside Atlanta – took top honors in FOX News Radio's
"Battle of the Blog Talkers."
Now, the odder-than-odd odd couple is teaming up for an unprecedented event. On November 5, they'll host a marathon BlogTalkRadio special that'll take the pulse of our nation – and determine who believes change is on the horizon. Kicking off at 6 p.m. and running live until 12 a.m. ET, "Exit Poll '08" will feature
Farai Chideya
, host of National Public Radio's "News & Notes," and
Rev. Leonard Jackson
, special advisor to L.A. Mayor Antonio Villaraigosa, among other pundits. But no pundit's voice will be more important than yours: Kevin and David will move mountains get as many callers on the air as possible. "Even if it means..." notes David. "Breaking in on each other mid-opinion," adds Kevin.
2 episodes available. A new episode about every 0 hours averaging 180 mins duration .