Manage episode 210334991 series 1421122
Discovered by Player FM and our community — copyright is owned by the publisher, not Player FM, and audio streamed directly from their servers.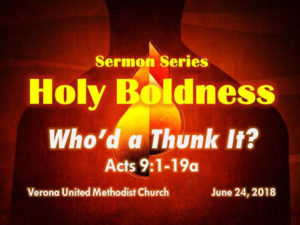 June 24, 2018 Who'd A Thunk It?
Shawna Hiner Preaching this Sunday at VUMC
Thank you to Pastor Jeff Allen for preaching this past Sunday while I was at Annual Conference in Hampton. Shawna Hiner, newly licensed for pastoral ministry and one week away from beginning her ministry as Aisle 7's new pastor, will preach at our 8:30 and 11:00 services. Her sermon is entitled "Who'd a Thunk It?" from Acts 9:1-19a.
The post Who'd a Thunk It? appeared first on Verona United Methodist Church.
207 episodes available. A new episode about every 7 days .