Manage episode 246483732 series 131718
By
Cynthia Graber
and
Nicola Twilley
. Discovered by Player FM and our community — copyright is owned by the publisher, not Player FM, and audio is streamed directly from their servers. Hit the Subscribe button to track updates in Player FM, or paste the feed URL into other podcast apps.
At its most basic, a menu is simply a way for a restaurant to communicate its offerings and their prices to its customers. But, perhaps even more importantly, says Alison Pearlman, author of a new book on menus called May We Suggest, a menu has to persuade diners that they want what the restaurant is selling. So how do menus do that—and are they somehow subconsciously manipulating our choices? Are there universal principles of effective menu design that savvy diners can identify and outsmart? Listen in this episode as we decode the history and science of the not-so-humble menu.
As long as there have been places to eat outside the house, there has been some form of menu. For most of its history, however, the menu hasn't been the individually printed document we think of when we hear the word today. According to Pearlman, the earliest menu we've found is a list written on the wall of a bar in Pompeii, dating back to the second century BCE. Menus have also often been communicated verbally, or even, during China's Southern Song Dynasty, in the form of special viewing dishes—sample dishes that servers would bring out for diners to choose between.
In the U.S., the first printed bill of fare dates back to 1834. According to Josh Kun, who told Los Angeles' history through the public library's menu collection in his recent book, To Live and Dine in L.A, most early menus weren't linked to restaurants, but rather to special events, as the high cost of printing individual menus only made sense for a banquet. (In Los Angeles, Kun added, the earliest menus were printed before the city's first books. #priorities.) Nowadays, printed menus have trickled down to the rest of us—and the shifts in their design over time reveal not just the changing economics of restaurant dining, but also trends in demographics, aesthetics, and values.
But what about menus as sales tools? Can menu design and language sway our choices as consumers? That's exactly what art historian and food lover Pearlman set out to discover, by interviewing restaurateurs, visiting dozens of restaurants and analyzing their menus, and reading every book and study she could find on the science of menu engineering. To test Pearlman's findings, we visited two restaurateurs with two very different menus: Tom Schlesinger-Guidelli, owner of Alcove, a year-old fine-dining restaurant in Boston, and Ayr Muir, CEO of a small chain of fast-casual restaurants called Clover. With their help, and Pearlman and Kun's research, this episode we get to the bottom of menu design's many mysteries. Is there such a thing as a sweet spot on the menu—and, if so, where is it? Does anchor pricing, where a menu features one extremely expensive dish so everything else looks like a bargain, actually work? And how is the rise of digital menu technology helping restaurateurs make menus more manipulative than ever before? Listen in now for all that—and a couple of garlic cloves in a hot tub.
Episode Notes
Alison Pearlman is an art historian and professor at the California State Polytechnic University in Pomona. She is the author, most recently, of May We Suggest: Restaurant Menus and the Art of Persuasion.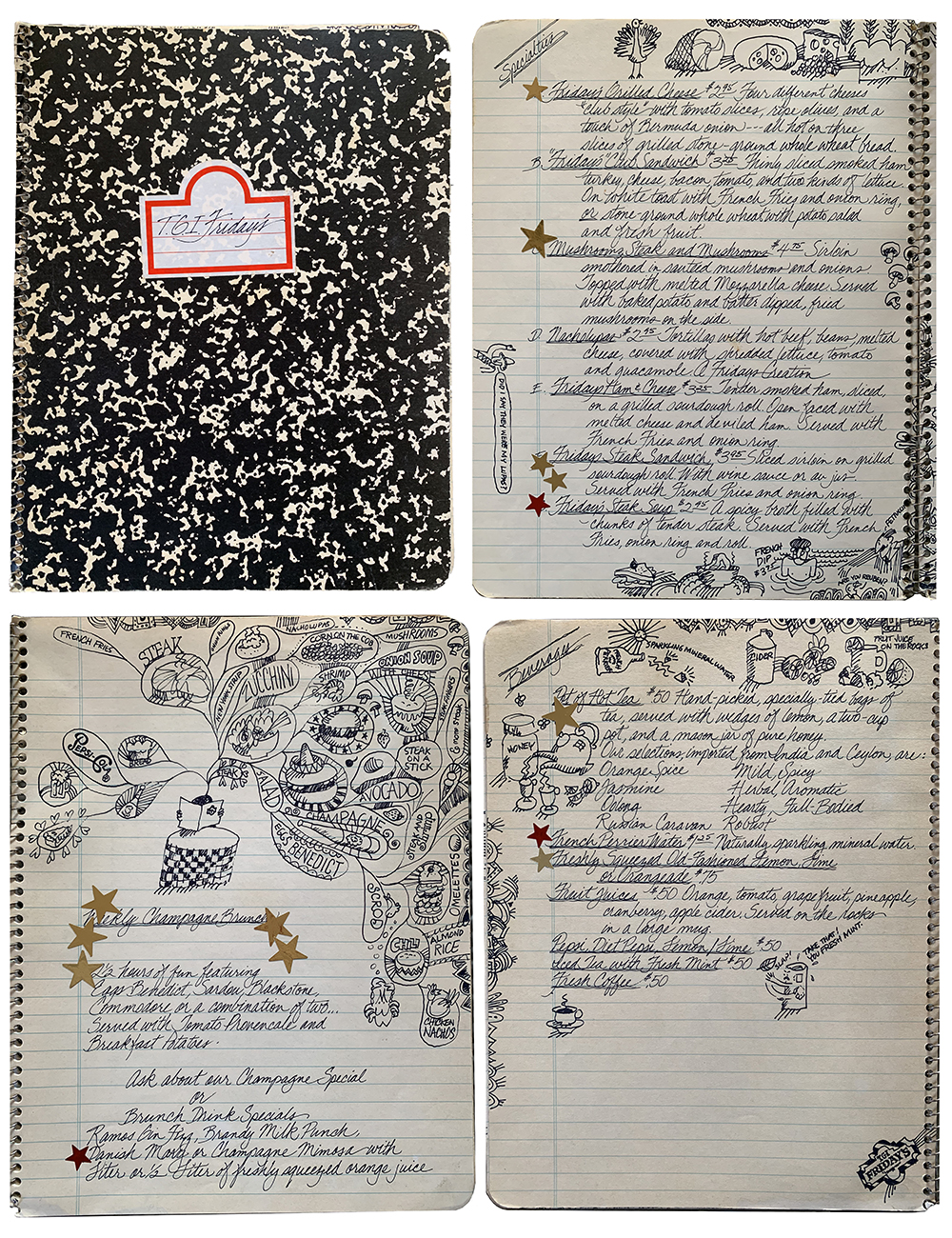 TGI Friday's menu, 1976, collection of Alison Pearlman.
Josh Kun and To Live and Dine in L.A.
Josh Kun is director of the USC Annenberg School of Communication, and author of To Live and Dine in L.A.: Menus and the Making of the Modern City , which Nicky wrote about for The New Yorker when it was first published, in 2015.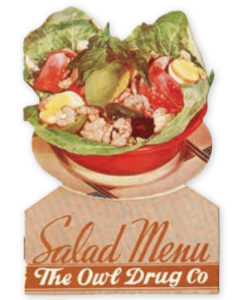 The Owl Drug Company (various locations), 1940s. Collection of the Los Angeles Public Library.
Gastropod listener Bob Timmermann wrote this introduction to the Los Angeles Public Library's menu collection, one of the Rare Book's divisions many and varied special collections (Nicky's favorite is the citrus label collection). If you're in Los Angeles, you can make an appointment to see its treasures for yourself; if not, the library has been digitizing its collection and many are available online.
Restaurant industry veteran Tom Schlesinger-Guidelli opened his first restaurant, Alcove, in Boston's West End, just over a year ago. A year before that, he started working with designer Drew Katz on the menu. Both the design and the dishes listed on it are gorgeous—do visit if you're in town.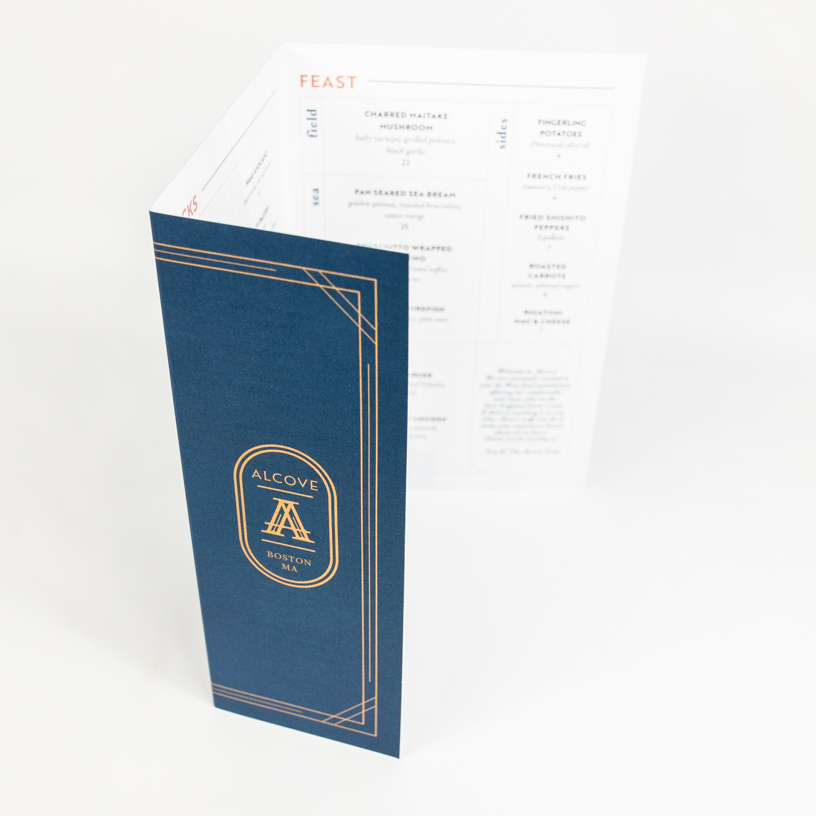 Alcove's menu, photographed by designer Drew Katz.
Clover began life as a food truck on the MIT campus in 2005; today, the fast-casual chain (which is meat-free but deliberately never uses the word 'vegetarian') has twelve locations throughout Boston and Cambridge. CEO Ayr Muir prioritizes local, seasonal food, makes pretty much everything in-house, from scratch, everyday, and his digital menu is cutting-edge. Both Cynthia and Nicky are big fans.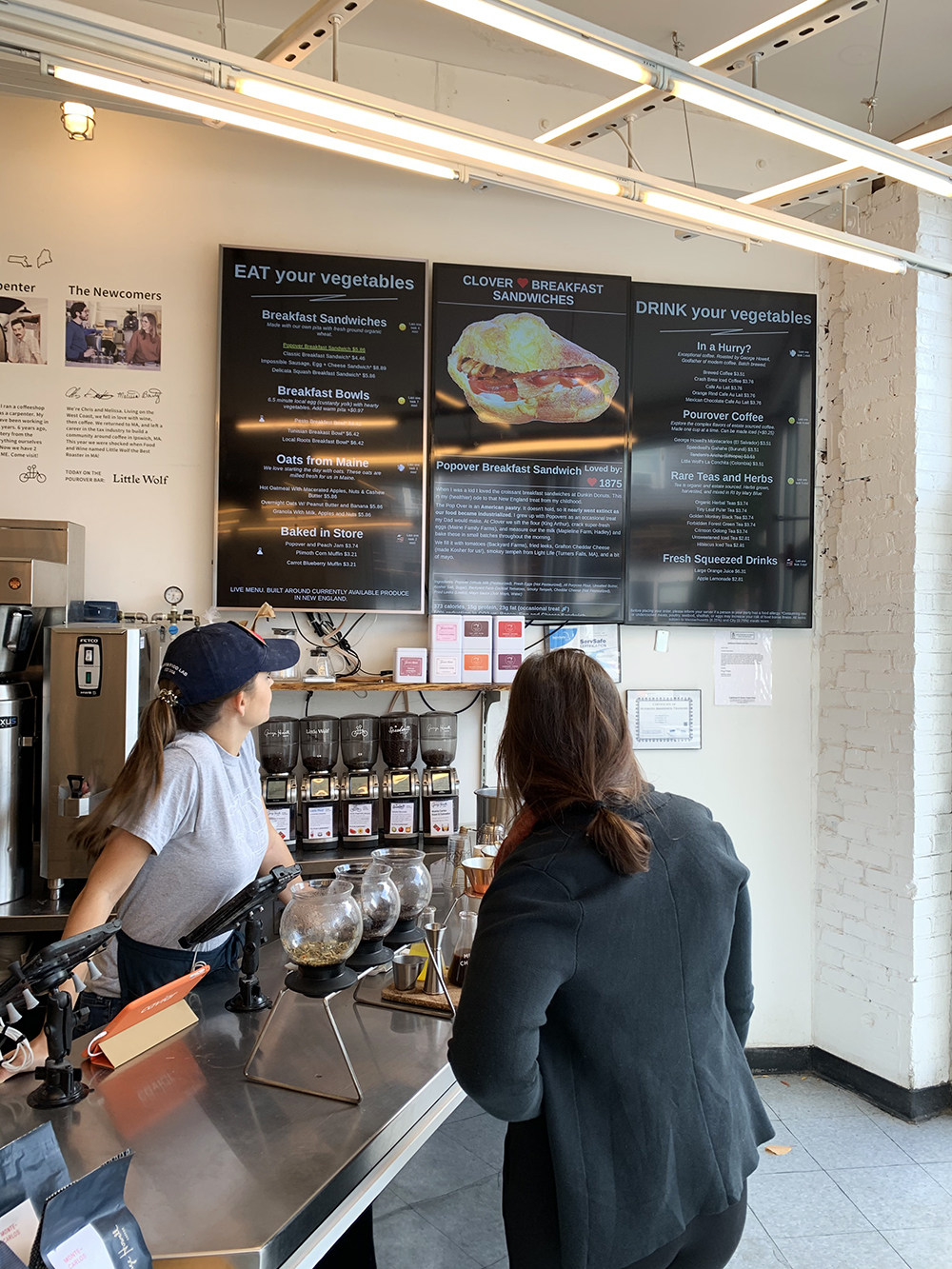 Clover's digital menu, displaying the popover sandwich. Photo by Nicola Twilley.
The post Menu Mind Control appeared first on Gastropod.
153 episodes