Fetch error
Hmmm there seems to be a problem fetching this series right now. Last successful fetch was on March&nbsp11,&nbsp2017&nbsp16:33 ()
What now? This series will be checked again in the next day. If you believe it should be working, please verify the publisher's feed link below is valid and includes actual episode links. You can contact support to request the feed be immediately fetched.
Manage episode 155982713 series 1173112
By
Catalina Film Radio
. Discovered by Player FM and our community — copyright is owned by the publisher, not Player FM, and audio is streamed directly from their servers. Hit the Subscribe button to track updates in Player FM, or paste the feed URL into other podcast apps.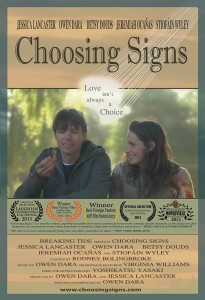 In the romantic comedy, Choosing Signs, by Irish filmmaker Owen Dara, Jennifer stops making decisions and allows simple games of chance to decide the fate of her life. If the coin lands on heads, she goes left. If it's tails, she marries the man of her dreams. But does the universe always know what's best? Today on the show, I'm speaking with the stars of the film, writer/director/composer Owen Dara and producer/actor Jessica Lancaster.

The Catalina Film Society presents a special screening of Choosing Signs on Wednesday, November 18th, at the historic Overlook Hall located at 209 E Whittley Avenue in the town of Avalon on Catalina Island. The screening is a community event and admission is free with a suggested $10 donation benefitting the Catalina Island Foundation. Snacks and beverages will be provided and the show starts at 7pm. For further questions about the screening, visit overlookhall.com.
Catalina Film Radio is provided by KISL 88.7FM Avalon and the Catalina Film Institute and supported by listeners like you. If you'd like to donate to help keep providing quality programming, please visit catalinafilm.org.
10 episodes