Manage episode 289451909 series 2907516
By
Dr. Sascha Weigel
. Discovered by Player FM and our community — copyright is owned by the publisher, not Player FM, and audio is streamed directly from their servers. Hit the Subscribe button to track updates in Player FM, or paste the feed URL into other podcast apps.
Problematische Vertrauenskonstellationen der Vertragsparteien bei Mediationen und Coachings in Organisationen.
Hier entlang zu den monatlichen News zu Mediation und Konfliktmanagement - kuratiert von Dr. Sascha Weigel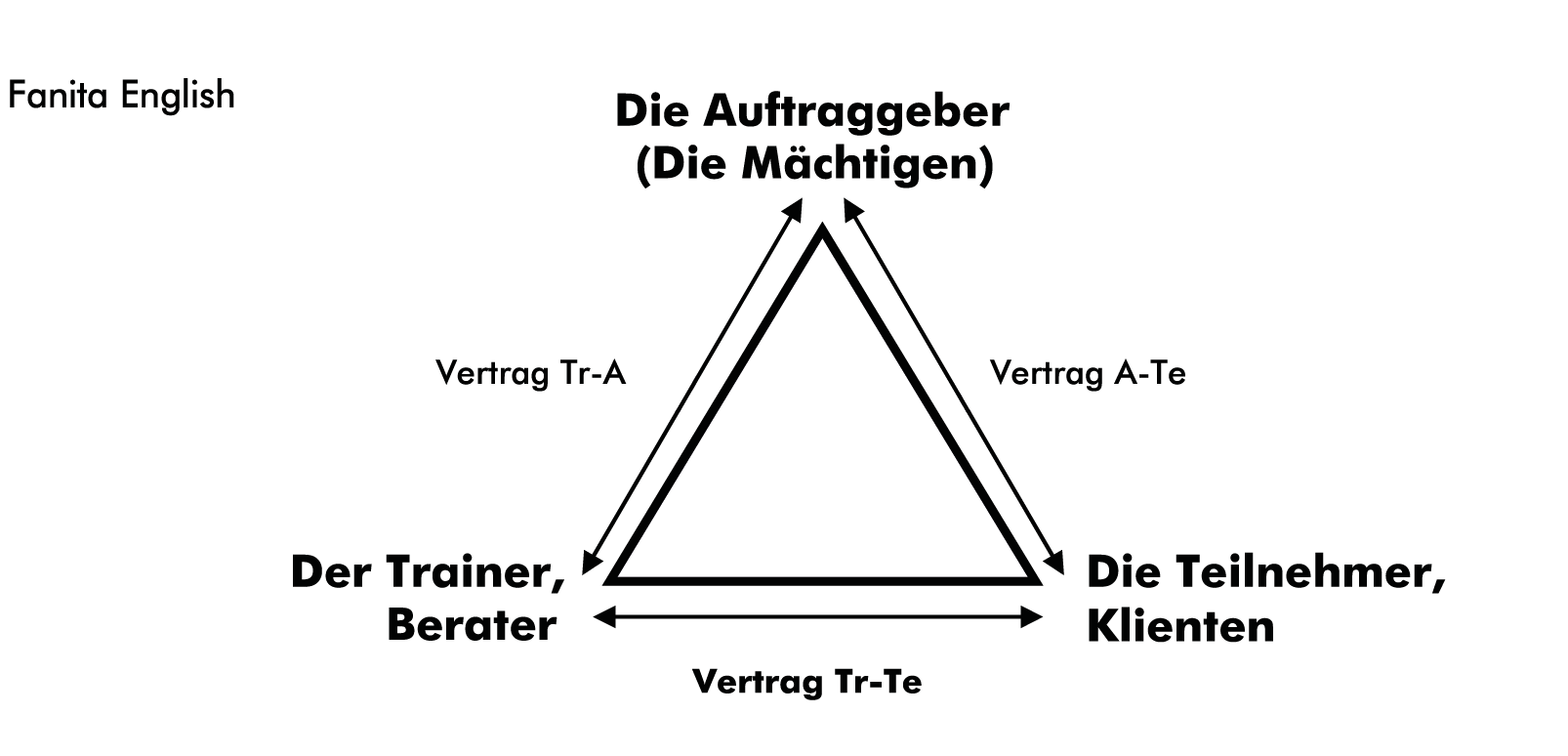 Arbeitet eine Beraterin (Mediatorin, Coachin, Trainer*in etc.) in und mit Organisationen, so ist der Organisationsvertreter als Auftraggeber oft nicht die Person, die "die Maßnahme" unmittelbar erleben wird. Die auftraggebende Person ist oftmals in Mediationen, Coachings, Trainings etc. nicht anwesend. Als finanzierende Person ist es geradezu der Sinn der Beauftragung, sich nicht persönlich drum zu kümmern. Das ist legitim und nicht ungewöhnlich. Dennoch wird dadurch besonders wichtig, die Vertragskonstellationen explizit anzusprechen und gegenseitigen Fantasien übereinander möglich wenig Raum zur Entfaltung zu geben.
Den möglichen Fantasien der einzelnen Vertragspartnern sollte wenig Raum zur Entfaltung gewährt werden.
Alle sollten das Wesentlich voneinander wissen, was unter den jeweils anderen vereinbart wurde. So sollten Coachees ebenso wie Mediant*innen von den Auftraggebern/Vorgesetzten/HR-Personen in Anwesenheit der Mediationsperson hören, was die Erwartungen sind, wenn diese Mediation gewährt und bezahlt wird.
Aber es gibt auch problematische Situationen im Dreieck.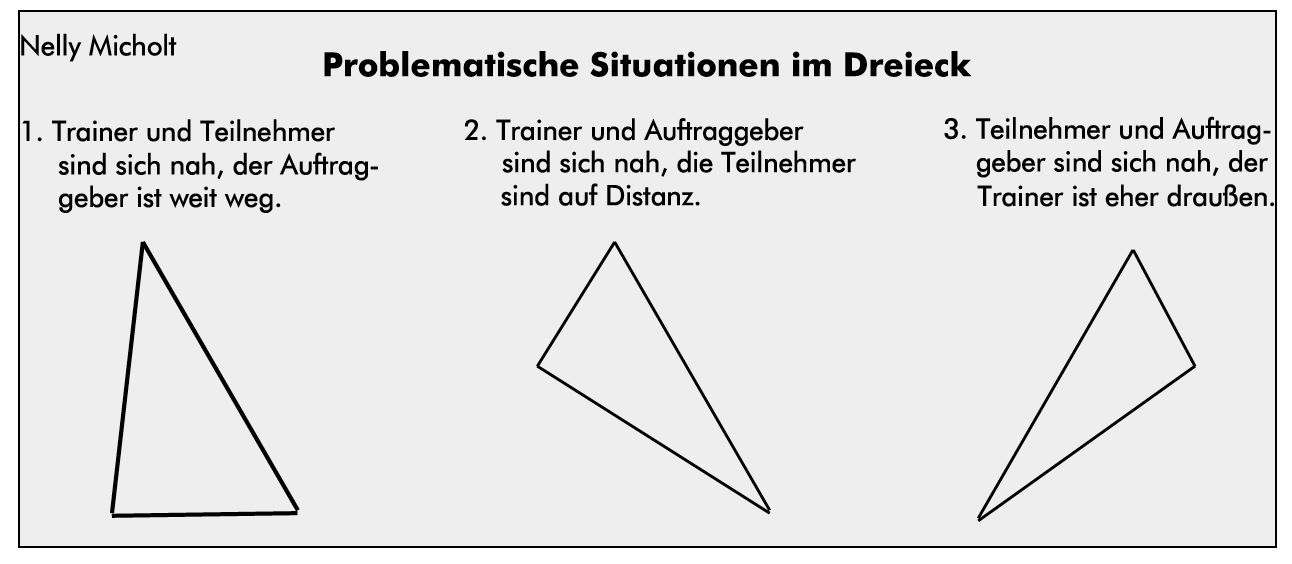 Die drei oben skizzierten spitzen Dreiecke symbolisieren drei unterschiedliche, aber gleich problematische Situationen_ bei Mediationen, Coachings, Trainings und Workshops in Organisationen:
Ist der Berater/die Mediatorin mit den Teilnehmenden in Relation zum Auftraggeber zu nah, bekommt die Situation leicht etwas Subversives . Die Teilnehmenden verbünden sich mit der Beratungsperson gegen die Mächtigen. Die werden dann irgend­ wann misstrauisch, und feuern die Beratungsperson. Statt Veränderung kommt letztendlich mehr Rigidität heraus.
Hier wird die Beratungsperson als Vertreter der Macht gesehen, die die Teilnehmenden auf Vordermann trimmen soll. Ein vertrauensvolles Arbeiten mit den Teilnehmenden wird schwierig sein, da diese zu Trotz und geheimer Sabotage tendieren. Aber auch die Auftraggeberin wird auf Dauer mit den Resultaten unzufrieden sein.
Hier stellt sich das Problem für die Beratungsperson, überhaupt im System in seiner Rolle wichtig zu werden. Nur zu leicht wird die Aktion sonst enttäuschend und zum Vorwand dazu, dass halt auch die Externen nichts in dieser Firma wirklich verbessern können.
Die verzerrten Dreiecke sind innere Bilder, die Beziehungskonstellationen und -dynamiken erfassen und auch prägen, die jedoch für die jeweiligen Vertragsparteien unterschiedlich sein können. Eine wichtige Aufgabe jedweder Beratungsperson, ob nun als Coach, Mediatorin, Trainerin oder Fachberater ist es zumeist, diese inneren Bilder den Weg in die (Meta-)Kommunikation der Beteiligten zu bringen.
besprochene Literatur:
English, F. (ZTA 1985): Der Dreiecksvertrag (The Three-Cornered Contract), in: Zeitschrift für Transaktionsanalyse in Theorie und Praxis, 1985, S. 106 – 108.
Micholt, Nelly (1992): Psychological Distance and Group Intervention, in: Transactional Analysis Journal 22:4, 1992, 228-233.
54 episodes