Archived series ("Inactive feed" status)
When? This feed was archived on September&nbsp02,&nbsp2017&nbsp15:34 (). Last successful fetch was on July&nbsp27,&nbsp2017&nbsp13:20 ()
Why? Inactive feed status. Our servers were unable to retrieve a valid podcast feed for a sustained period.
What now? You might be able to find a more up-to-date version using the search function. This series will no longer be checked for updates. If you believe this to be in error, please check if the publisher's feed link below is valid and contact support to request the feed be restored or if you have any other concerns about this.
Manage episode 151804681 series 1038546
By
Dick Darn
. Discovered by Player FM and our community — copyright is owned by the publisher, not Player FM, and audio is streamed directly from their servers. Hit the Subscribe button to track updates in Player FM, or paste the feed URL into other podcast apps.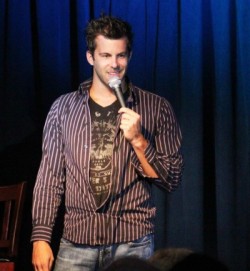 The Str8hustlin.com's crew Dick Darin, Money Mike and Stew get Todd Riley on the phone. We all saw Todd live in Nashville at Zanies Comedy club, I believe in February 2015. I was a awesome show that included Chris Franjola, Ahmed Ahmed and Hailey Boyle. We were lucky to meet Todd after the show as he comes out to chat with fans. We introduced our selves to Todd and let him know we would love to talk to him sometime for Str8hustlin.com, 3 months later, here we are. Todd tells us how he got interested and started in comedy, growing up in Ohio near the Amish, how he got to Charlotte North Carolina where he lives today, and his plans to keep touring and be more interactive online. If you get a chance to see Todd live make sure you get your tickets and get ready to laugh your ass off. For more information on Todd Riley, please visit: http://www.toddrileyhaha.com/
Todd's Bio from http://www.toddrileyhaha.com/
Fresh off a great performance on the Funny or Die Oddball Festival Side Stage, featuring amazing headliners such as Louis C.K., Marc Maron, Hannibal Burress, Jeff Ross, and Aziz Ansari. Todd brings an exciting and original viewpoint to comedy clubs and stages all over the country. He has been a part of Comedy Central's Up Next Comedy Contest, Laughs on Fox, and even opened for comedy legends Jon Lovitz and Rob Schneider, both giving great reviews. Stay tuned for upcoming shows and performances, because Todd is quickly becoming one of the best up and coming comedy acts touring today.
Please Listen
Interview music is by D-Shep
The post Finally, Comedian Todd Riley on Str8hustlin.com appeared first on STR8HUSTLIN.
99 episodes